COR 70 Industrial System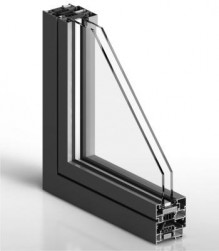 The window-door system of the architrave design depth of 70 mm having a high insulating capability of the heat transfer coefficient Uf of 1.2 W / m2K.
Well-designed aluminum profiles, wide thermal break made from polyamide, hermetic seals of EPDM and polyolefin foam placed peripherally in the window pane cut allow for perfect adaptation to changing climatic conditions and achieve significant energy efficiency.
The offer includes sashes and slats of straight, rounded or oblique edge. The possibility of glazing up to 55 mm allows you to achieve better properties of acoustic and thermal insulation.
Sound insulation

Maximum glazing thickness: 55 mm
Max. acoustic insulation Rw = 44 dB

Heat transfer coefficient

Uw from 0.9 (W / m².K)
Check the type, size and glazing

Types of sashes

Inward opening:
Side hung open, turn tilt, folding, tilt and slide and tilt.

Sections / Profile thickness

SECTIONS
architrave 70 mm
sash 78mm

PROFILE THICKNESS
Window 1.5 mm
Door 1.7 mm

The width of thermal break from 32 mm to 35 mm.

Maximum dimensions and weight /sash

MAXIMUM DIMENSIONS

Width (L) = 1.600 mm
Height (H) = 2.600 mm
* Single-Window Tilt & Turn

Maximum weight / sash 120 kg

Please consult the maximum dimensions and weight for other types.

Categories obtained on research

The air permeability
(EN 12207: 2000): Class 4

Water resistance
(EN 12208:2000): Class E1200

Resistance to wind load
(EN 12210: 2000): Class C5

Tests with regards to the double window of 1.23 x 1.48 m

Finishes

Two-color option
RAL Varnishing (dripping, rough)
Varnishing – wood imitation
Antibacterial varnishing
Anodizing