Sliding system 4200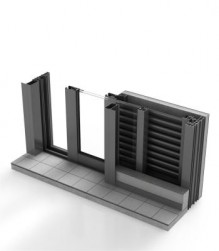 The variable system using various peripheral frames and is characterized by the possibility of using sashes with inclinations of 90 ° or peripheral.
It presents a choice of sash with rounded or straight edges.
In the version using sashes with inclination of 90 ° the 4200 Sliding GALANDAGE solution is introduced: this option is designed to allow the complete opening of the door through hiding sashes in the chambers in the wall of the building. In this way 100% of the door's surface is open.
Option GALANDAGE presents the possibility of using a single-track or double-track frame, thus allowing for the creation of the balconies with 1, 2 and 4 hidden sashes.
This system also allows the introduction of hidden sliding sash of Thames visor system.
Sound insulation

Maximum glazing thickness: 26 mm
Max. acoustic insulation Rw = 39 dB

Heat transfer coefficient

Uw from 1.6 (W / m².K)
Check the type, size and glazing

Types of sashes

Sliding 2, 3, 4 and 6 sashes
The possibility of the use of three-track rails
The possibility of the use of galandage option of single and double-track with 1, 2 and 4 sashes.

Sections / Profile thickness

SECTIONS
architrave 60/65/77/80 mm
three-track architrave 106 and 126 mm
Sash 33 and 37 mm

PROFILE THICKNESS
Window 1.5 mm
The width of thermal break: from 14.6 to 20 mm

Maximum dimensions and weight / sash

Width (L) = 4.400 mm
Height (H) = 2.600 mm
* Double window

Maximum weight / sash:
100 kg (peripheral sash)
200kg (sash with inclination of 90 °)

Please consult the maximum dimensions and weight for other types.

Categories obtained on research

The air permeability
(EN 12207:2000): Class 3

Water resistance
(EN 12208:2000): Class 7A

Resistance to wind load
(EN 12210:2000): Class C5

Tests with regards to the double window of 2,02 x 1,20

Finishes

Fwo-color option
RAL Varnishing (dripping, rough)
Varnishing – wood imitation
Antibacterial varnishing
Anodizing