Millenium Plus System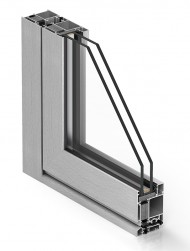 Door system with thermal break of the sash structural thickness of 70 mm perfect for commercial premises and public buildings as well as single-family housing.
It has a high insulating capability of heat transfer coefficient Uf from 1.5 W / m2K. This system allows you to achieve optimum thermal insulation, and the possibility of using thick glazing provides maximum sound insulation.
It is possible to use the hinges of high strength (surface or reinforced cogging) which are able to hold the sash of a maximum weight of 220 kg. There is also the possibility of using concealed hinges for maximum dimensions and weight of sashes: height of 2700 mm, width of 1500 mm and weight of 120 kg.
This system can be used as an emergency exit equipped with an anti-panic device in accordance with the standards EN179 EN1125.
Sound insulation

Maximum glazing thickness: 54 mm
Max. acoustic insulation Rw = 38 dB

Heat transfer coefficient

Uw from 1.0 (W / m².K)
Check the type, size and glazing

Types of sashes

Inward opening: 
Side hung open with one and two sashes

Open to the outside: 
Side hung open with one and two sashes

Sections / Profile thickness

SECTIONS
architrave 70 mm
sash 70mm

PROFILE THICKNESS
Door 2.0 mm
The width of thermal break 24 mm

Categories obtained on research

The air permeability
(EN 12207:2000): Class 4

Water resistance
(EN 12208:2000): Class 6A

Resistance to wind load
(EN 12210:2000): Class C4

Tests with regards to the single-leaf door of 1,20 x 2,30 m

Resistance to the impact of soft bodies
Research carried out on the basis of EN 13049: 2003 Class 5 (max)

Tests with regards to the double door of 1,80 x 2,20 m

Laminated pane 3 3

Resistance to the repeated opening and closing
Research carried out on the basis of standards EN 1191: 2000
500,000 cycles

With respect to the single-leaf door 0.935 x 2.10 m

Maximum dimensions and weight /sash

MAXIMUM DIMENSIONS

Width (L) = 1.800 mm
Height (H) = 3.000 mm
* Single-leaf door side hung open

Width (L) = 1.500 mm
Height (H) = 2.700 mm
* Single-leaf door side hung open with concealed hinges

Maximum weight / sash 220 kg
120 kg (concealed hinges)

Please consult the maximum dimensions and weight for other types.

Finishes

Two-color option
RAL Varnishing (dripping, rough)
Varnishing – wood imitation
Antibacterial varnishing
Anodizing